New Addition to the Ronsman Family!!
Jenny and I have been searching for a puppy these past few months. It appears that our big search is over! Today (2/21/10) we went to see a Cockapoo breeder (thats a cocker spaniel bred with a poodle). We decided on the breed because they're supposed to have the happy disposition and willingness to please of a cocker spaniel, and also the intelligence and hypo-allergenic, low-shed qualities of a poodle. They can vary wildly in their sizes, but these ones are expected to grow to be 15 - 20 pounds, which should be a great size for us. We also decided that we wanted a girl puppy as well. They're not ready to take home yet. We were told end of March, or the beginning of April. We're going to name her Zelda. For me that's a video game reference, and for Jenny's it's a literary author reference. Compromise is a beautiful thing.
We're so excited to get her home!!!!
Here are a few pictures from our visit...
The breeder first brought out all of the female puppies in a basket.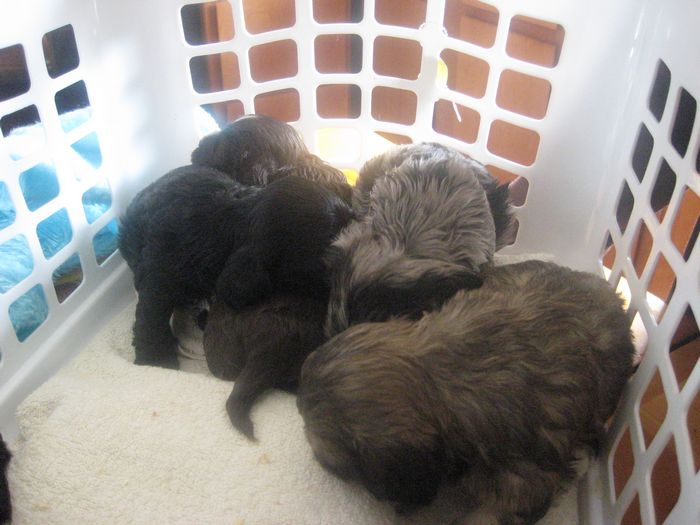 More basket o' puppies...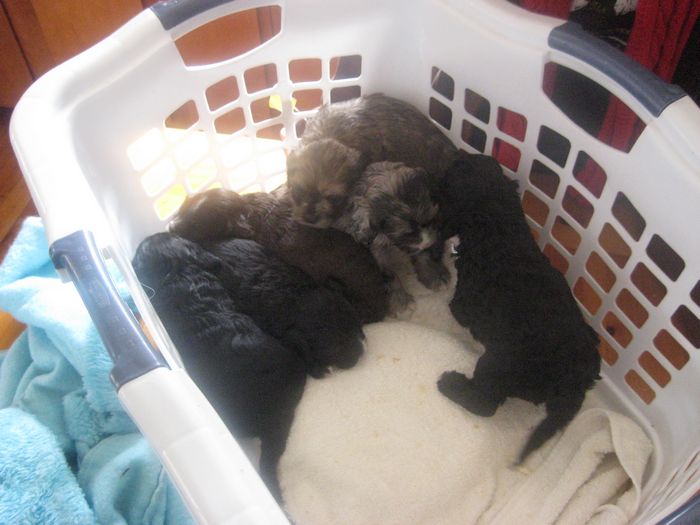 Of course, they were even more cute in real life. That black one there was licking that other puppies face...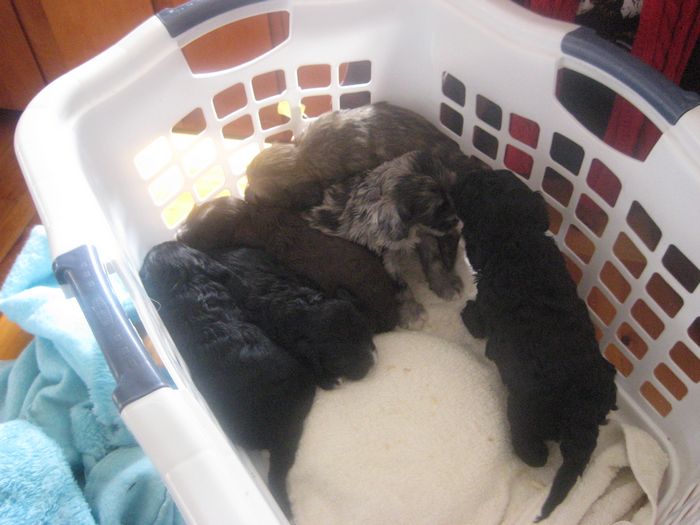 Awww cuddle puppies.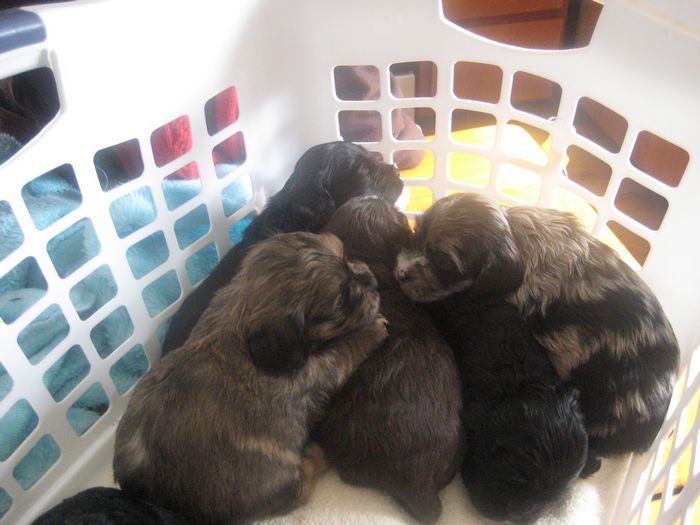 Jenny and I got to pick up many of them and hold them. Sadly a lot of them were already spoken for, so not all the puppies in the pictures were available. I guess it was easier just to bring all the girls out rather than pick and choose.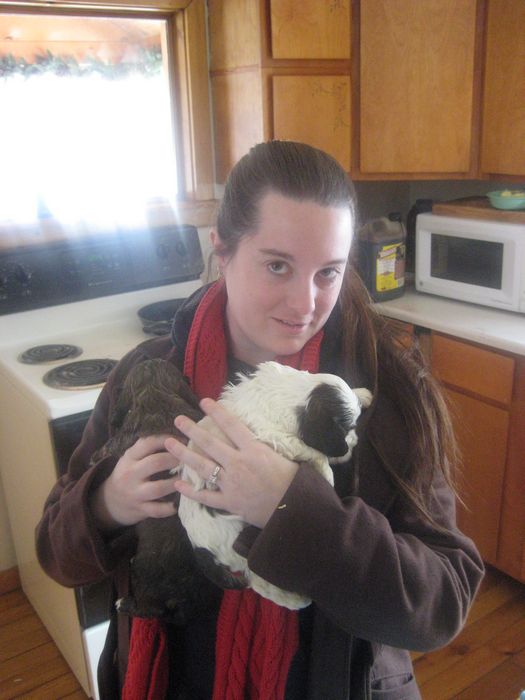 My first trial holding period of a puppy. I just wanted to take all of them home...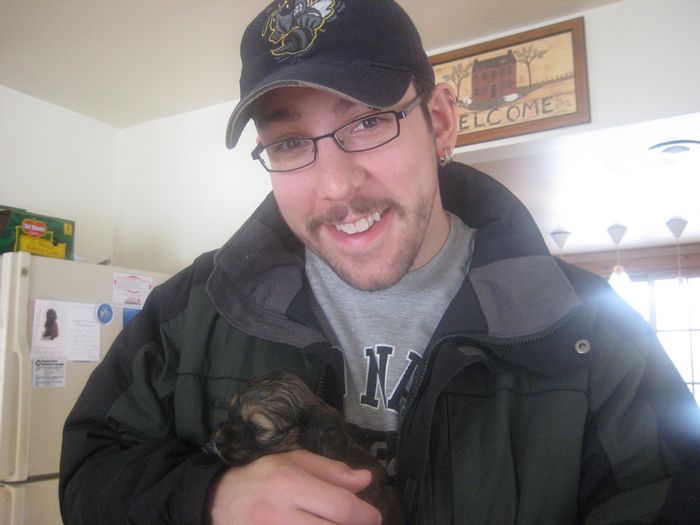 Then we found the one! Again, Zelda will be her name. Here are a few pictures from the breeders website that they took of her: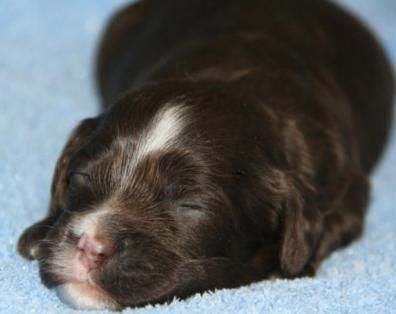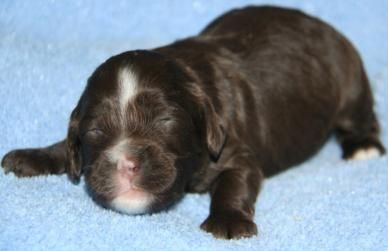 Of course, these pictures were when she was younger, and hadn't opened her eyes yet. Well she was a few weeks older once we arrived, and she her eyes were opened now! Here are some pictures from our visit: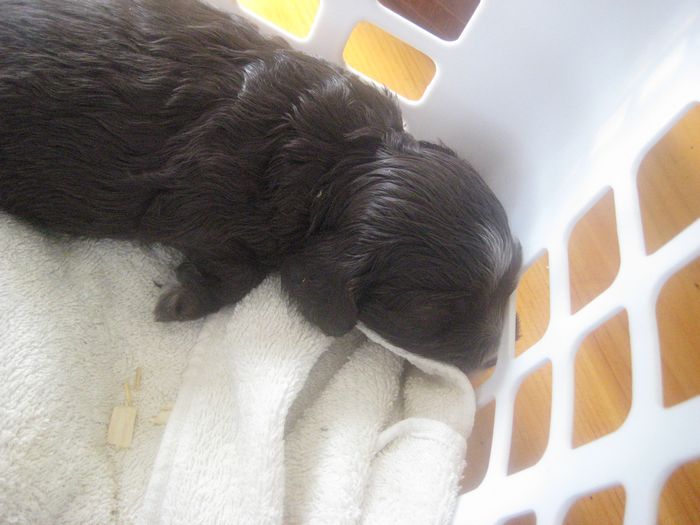 You can't tell from the picture, but she's got the prettiest blue eyes! Brown coat with blue eyes just looks so cool.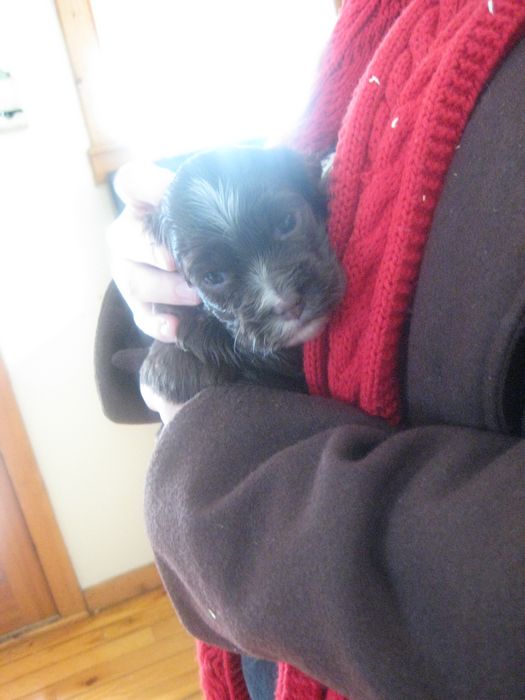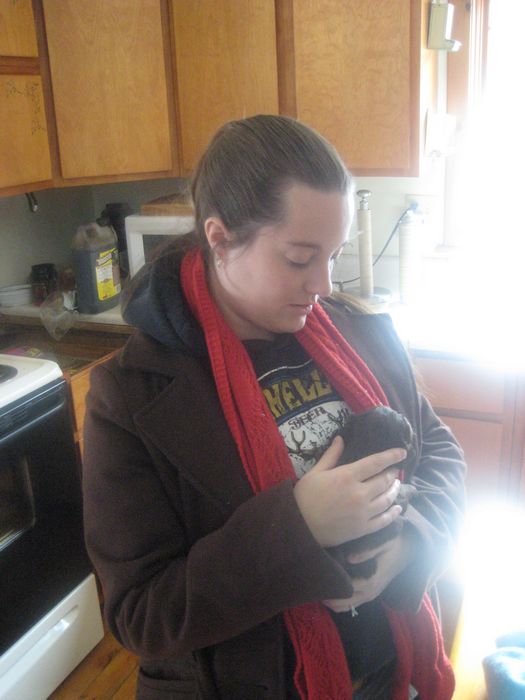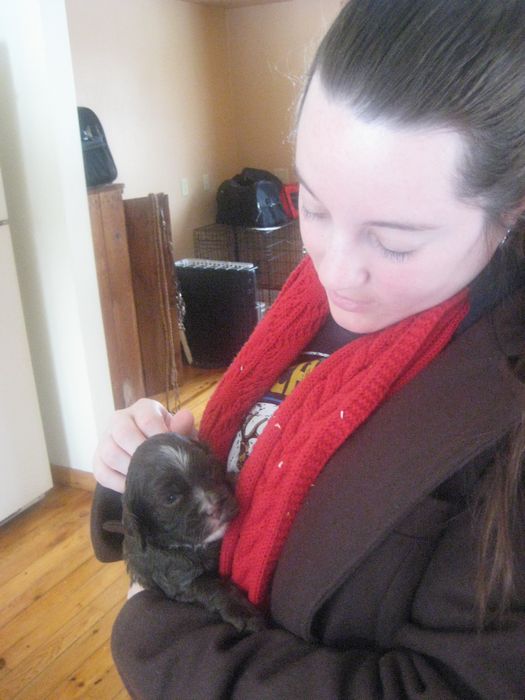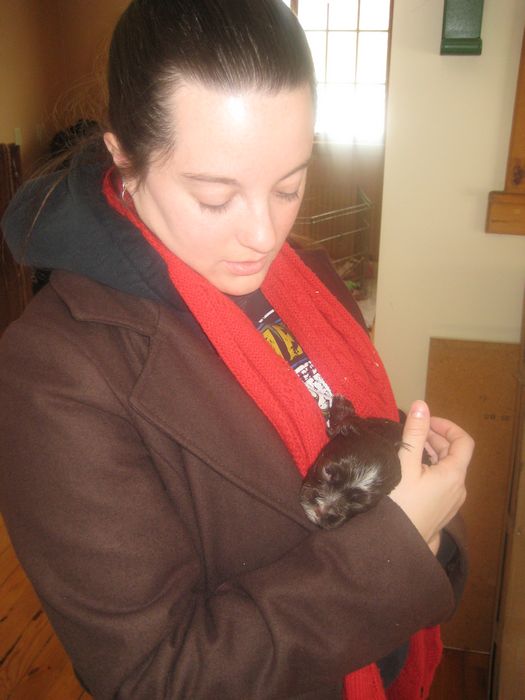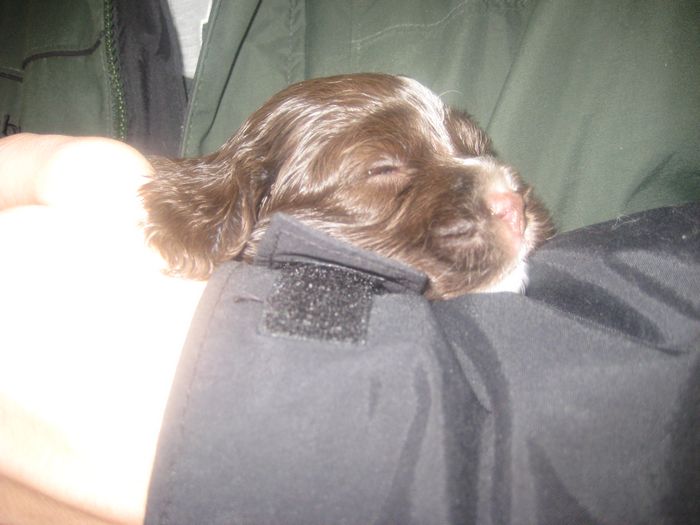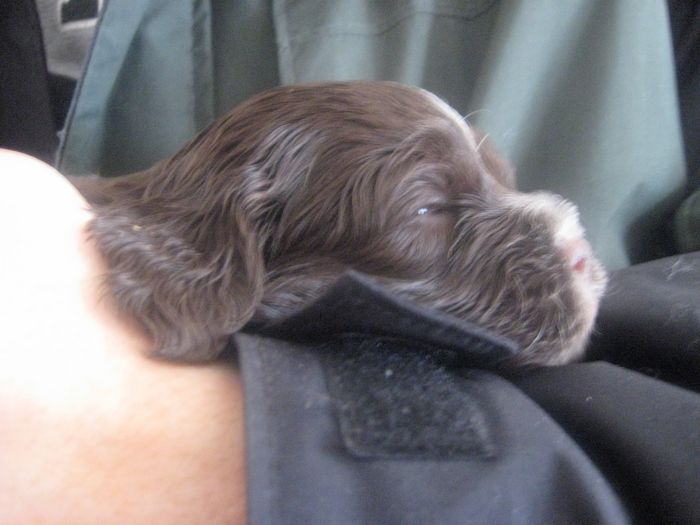 One big happy family!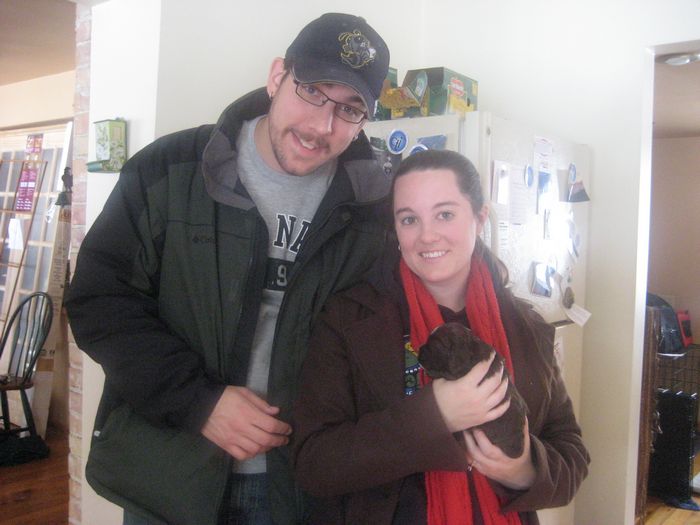 And lastly, here's a few videos spliced together that we took of her while we were there!
Of course, we didn't want to leave her, but definitely needs some more time with her mommy. So a little over a months and we get to return to pick her up!!! Can't wait! I'll post more pictures once we get her!
Update 3/2/10:
The breeder decided to send us a few more pictures of Zelda already! Here you go!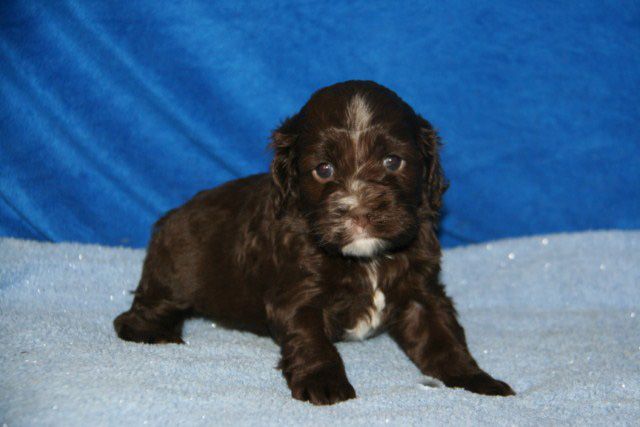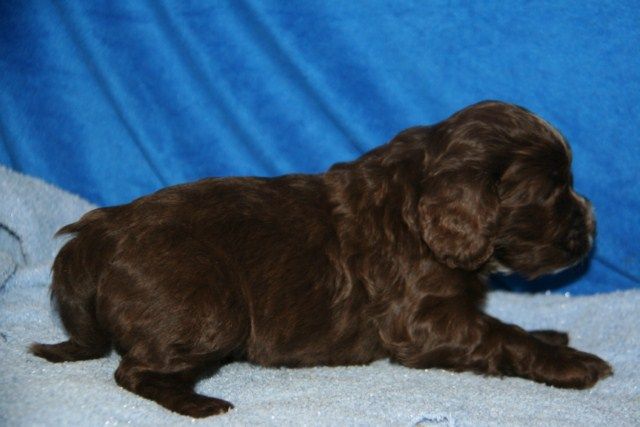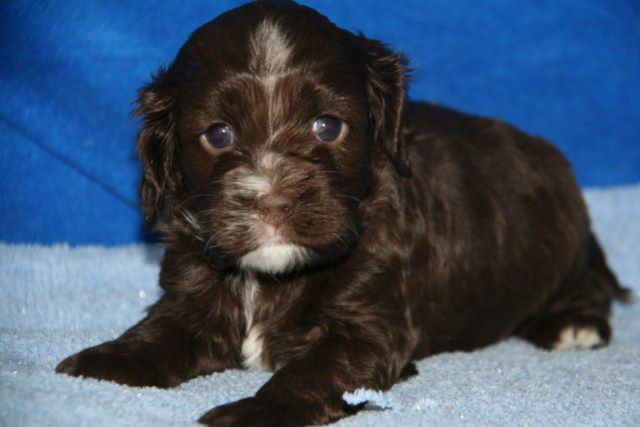 Less than a month!
UPDATE 3/20/10:
She's home! She's been a great puppy so far. She did wake up at 1am and 5am last night, but she didn't whine at all in her kennel! Since she's so young she sleeps probably like 18 - 20 hours a day, but when she's awake she's such a sweet puppy! Here are some pics and one more video!
First stroll in the yard: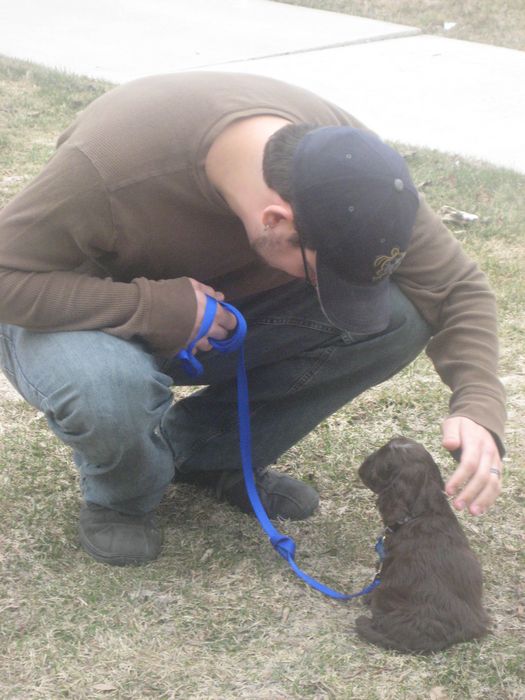 Loves this blanket because it has her mommy's scent on it: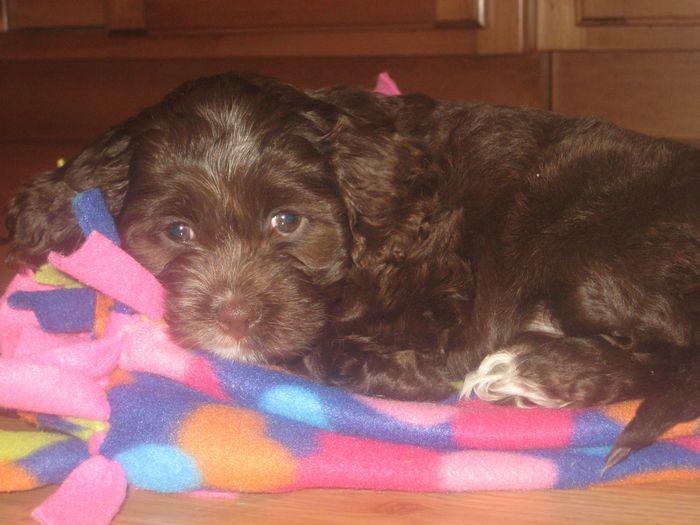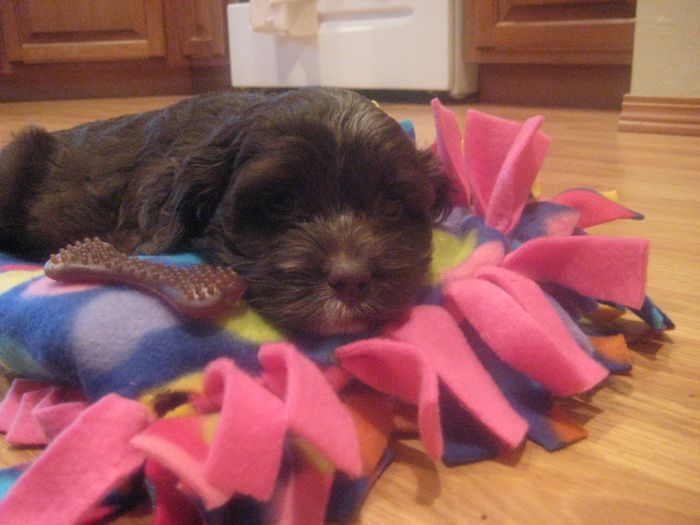 Cute new monkey squeaker toy: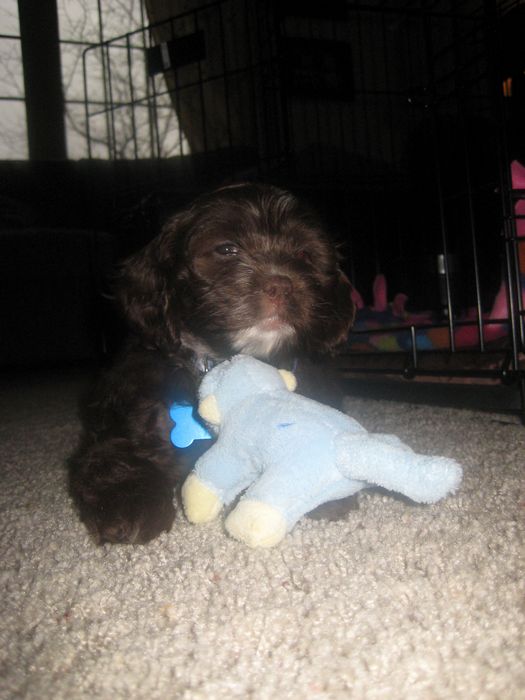 Napping in her kennel so nicely: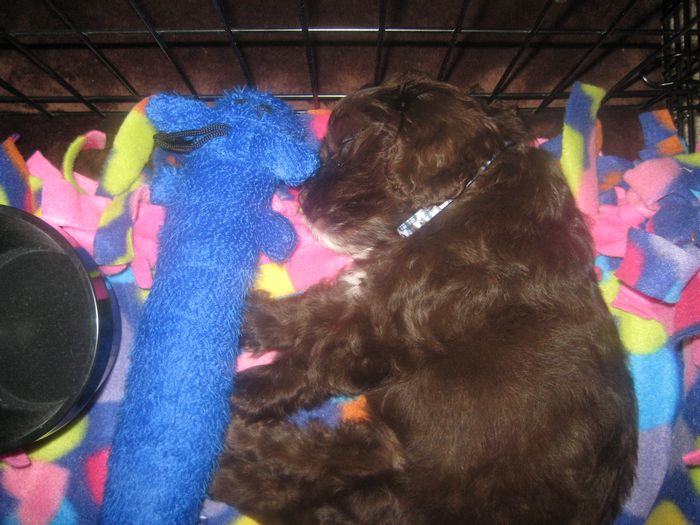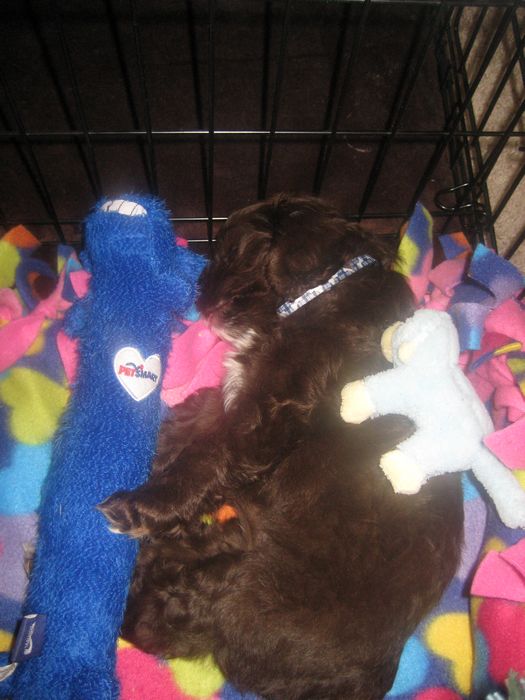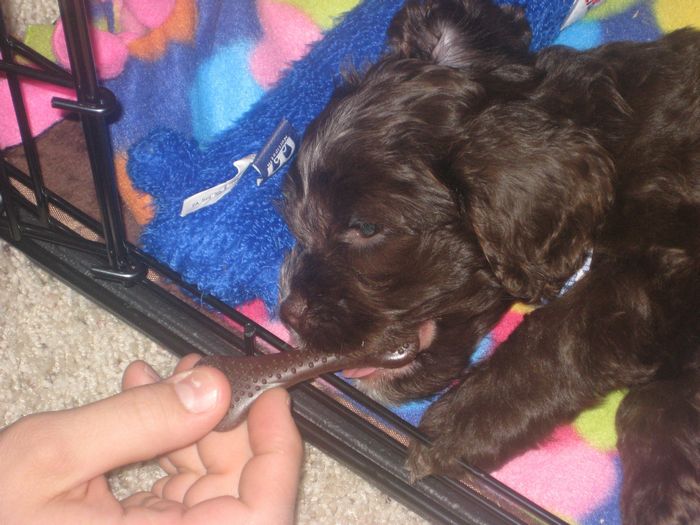 After her first bath, boy she did not like that...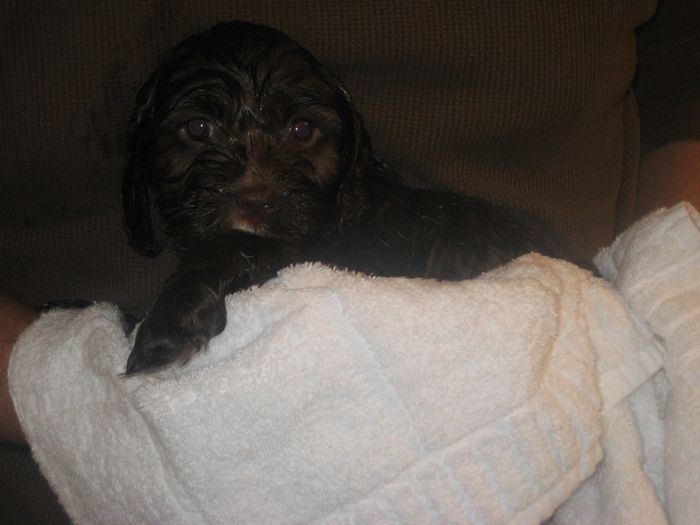 Warming her up after the bath: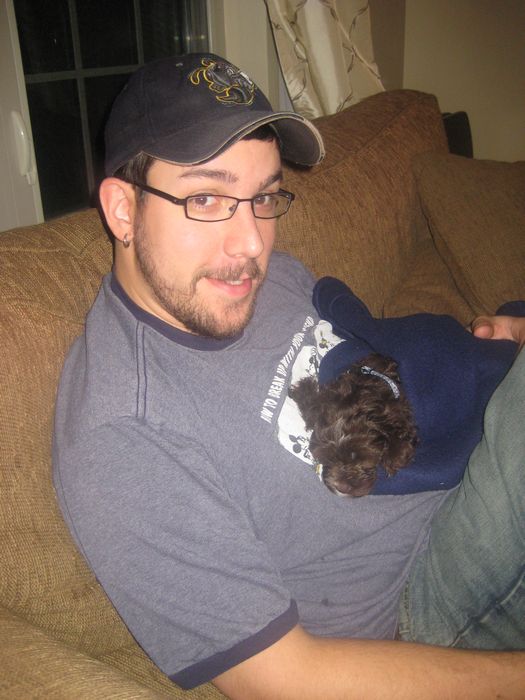 Proud new mommy: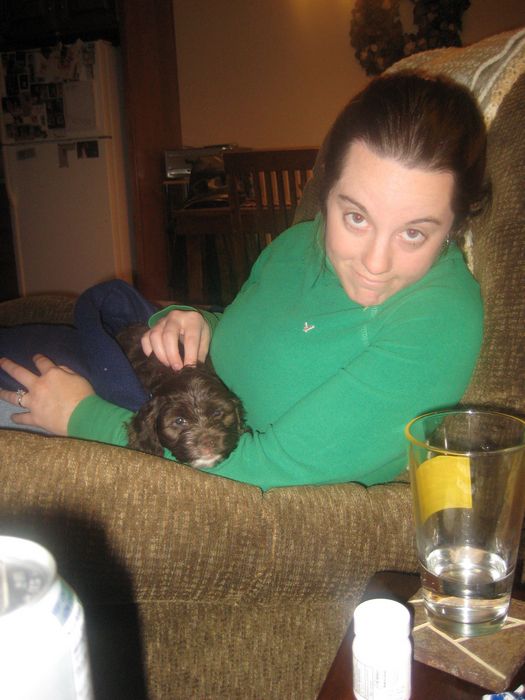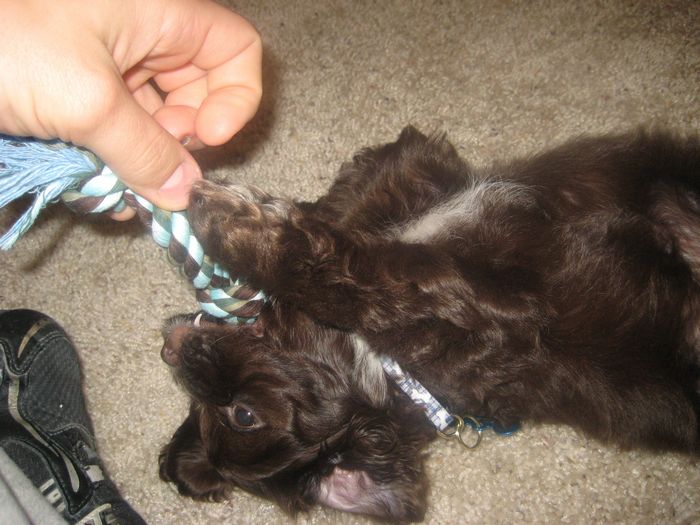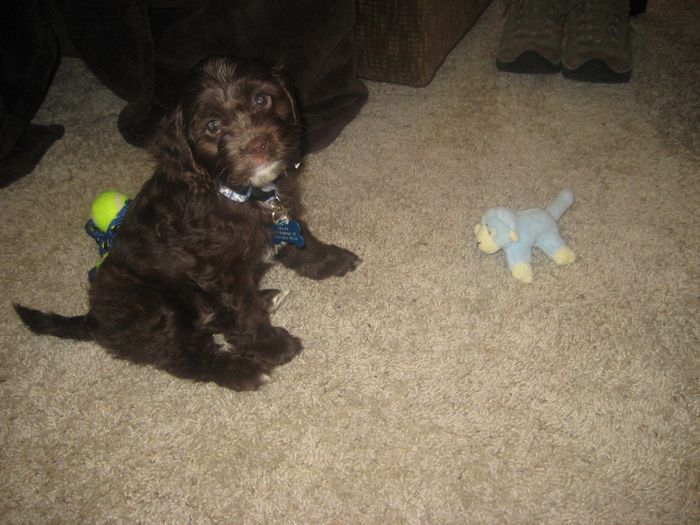 I bet you're thinking right now, I could really go for a 98 second long video of a puppy chasing a monkey right now, aren't ya? Well here you go!!


Although we won't be leaving her at home alone too often to start, I did put in a puppy cam in my kitchen. We'll be leaving her gated in there with her kennel during the days where we need to leave. So here is a link to the camera in case anyone wants to watch. Probably won't be too exciting, but I did this for me, not you people! Don't be so selfish...geesh...

http://www.markronsman.com/ZeldaCam.htm

Also, you will need Internet Explorer to view this camera, other browsers will not work. Also, you will need to run a java plugin on the web page on the initial load for it to work too.
Update 5/17/10:
Some people have been asking for some new pictures of Zelda, so here you go! She was around 6 pounds when we got her, but she is around 10 pound now. So she's definitely getting bigger! The breeder said that they expect her to be between 15 and 20 lbs, so we'll see how much bigger she gets.
I didn't realize that puppies slept so much in the beginning. Apparently I do too...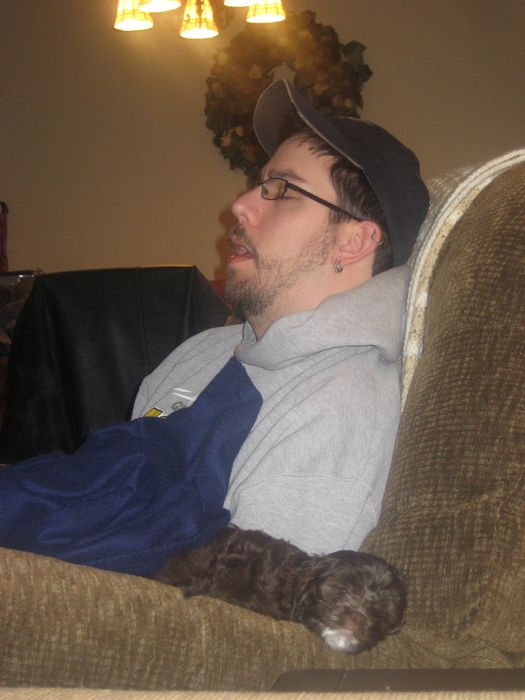 What a tramp! Sleepin around like that!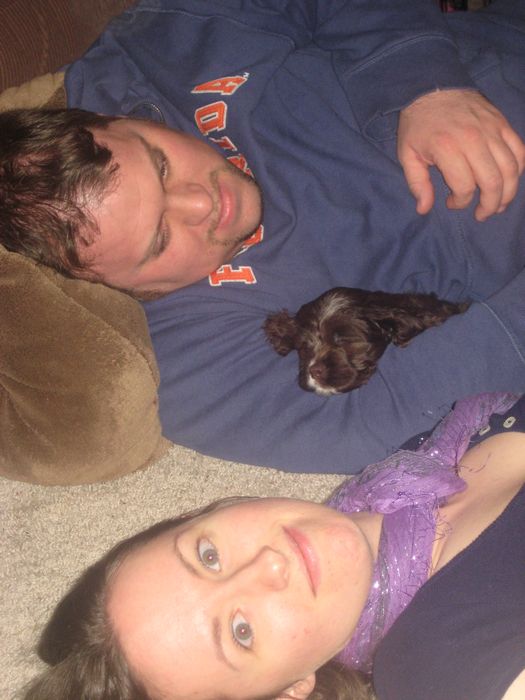 Puppies can hide in small places: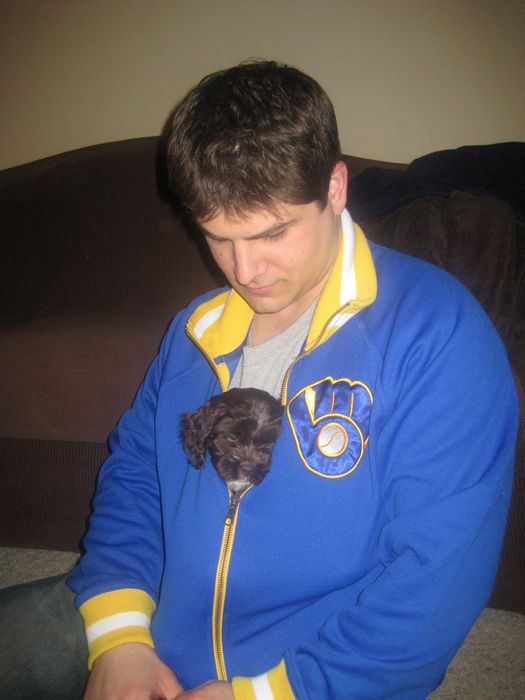 She's still not the greatest at walking but she's much much better than she was in this picture. She'd make it about 10 feet from the front of our house and she's sit down and wouldn't walk any more.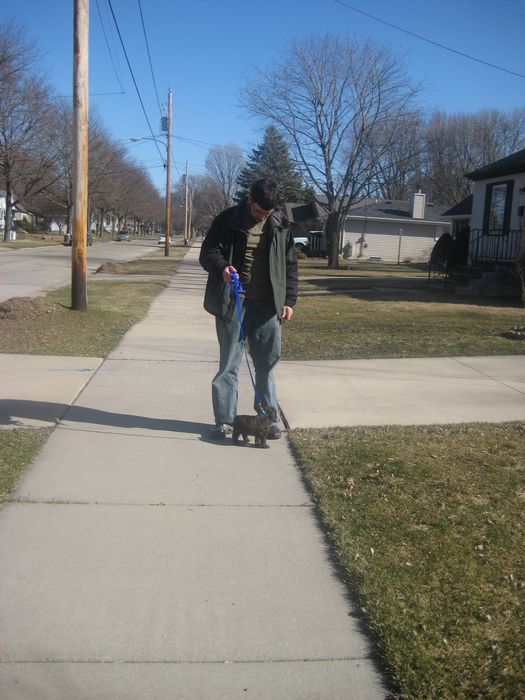 So tiny! She's already so much bigger than this!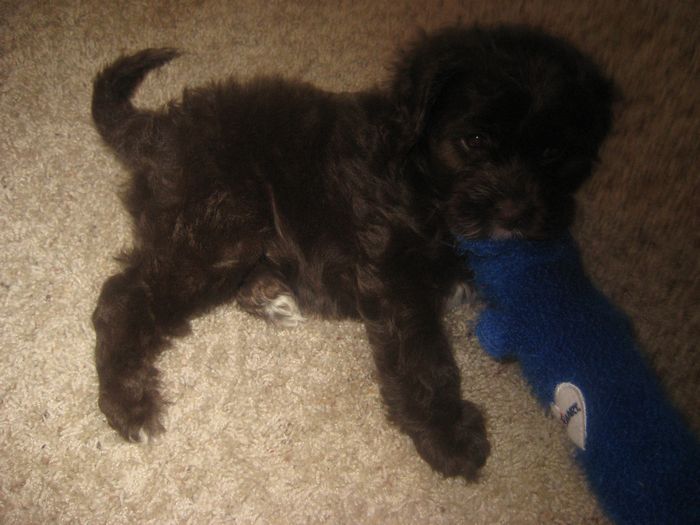 One of her favorite toys: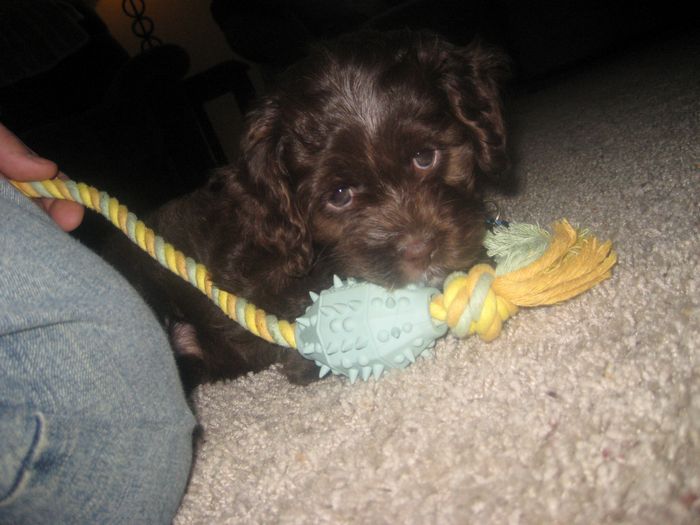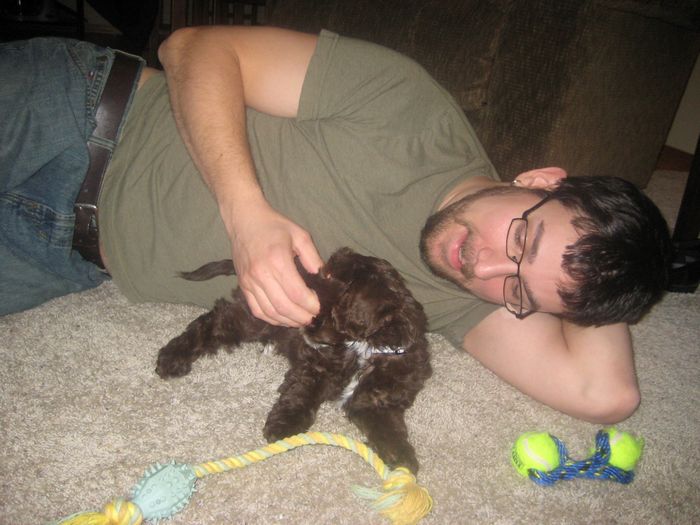 Here's a short video that'll give you an idea of what it's like in the day in the life of Zelda. Pretty much, lie down, sit, bully sticks, kisses, and belly rubs. It's a rough rough world for this puppy...


Awww, momma kisses...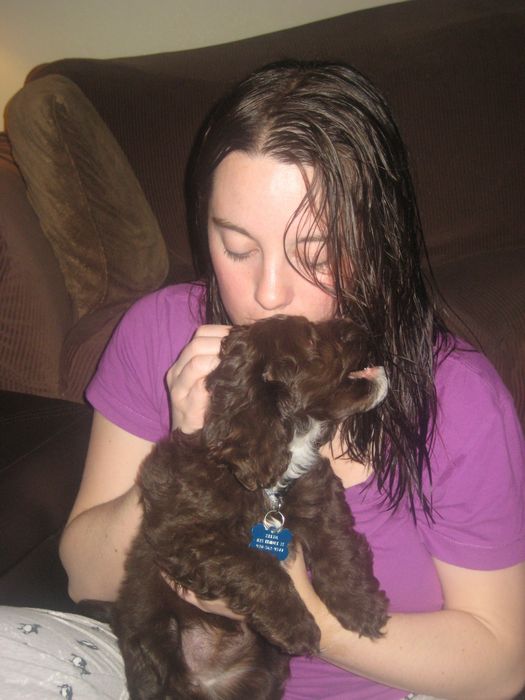 It's kind of funny when she gets tired late at night. You can pretty much do anything to her and she will just lay there. Pretty sure I won this staring contest though...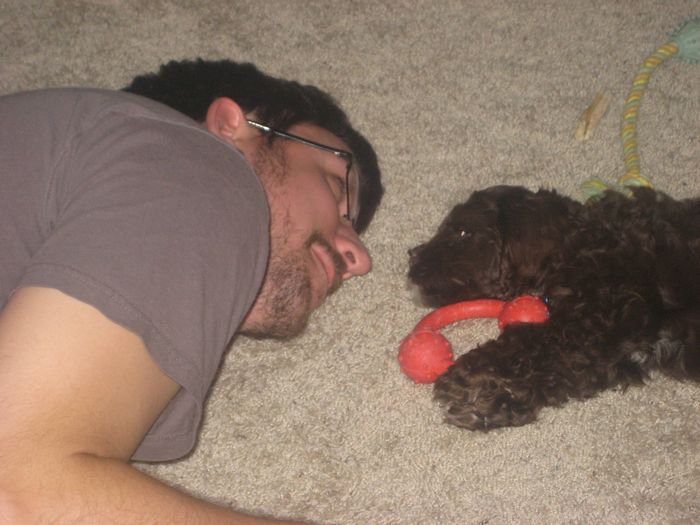 Zelda meets Webster (our friend's dog) for the first time! Webster weighs probably 90+ lbs and Zelda around 10lbs, it's pretty comical to watch them together. Zelda can definitely hold her own though (which was actually surprising...)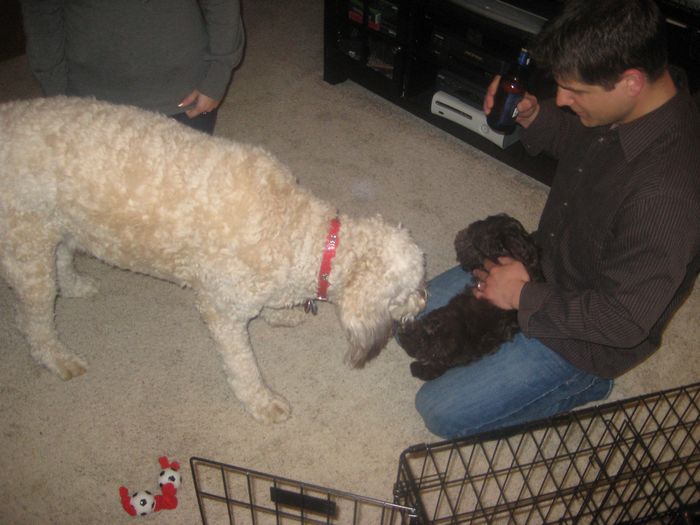 Here's their relationship in fast forward. Webster sniffin' some butt, getting acquainted...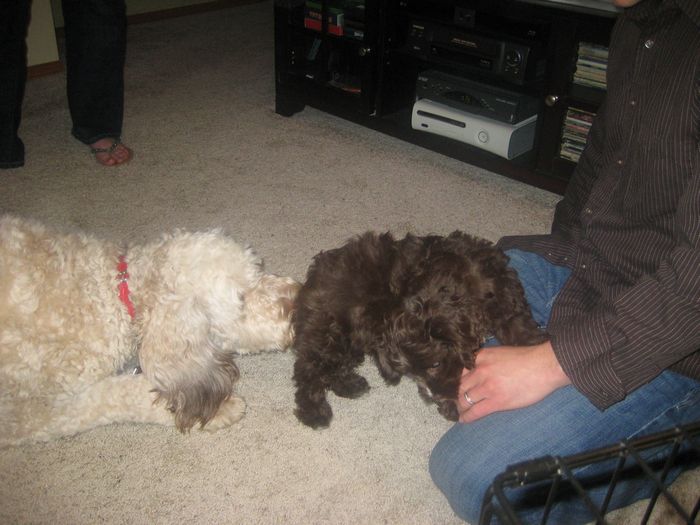 Zelda smoochin' Webster...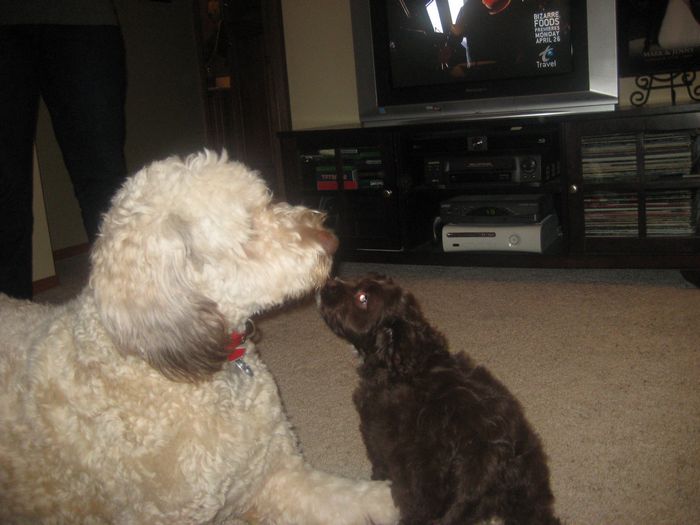 Zelda thinking "are we growing apart?!?!?!" Awww...
I think she's also thinking "Hey that's MY pink toy!"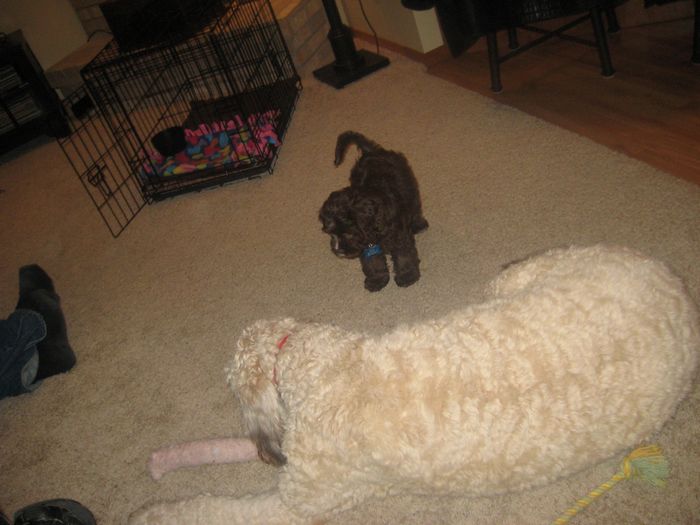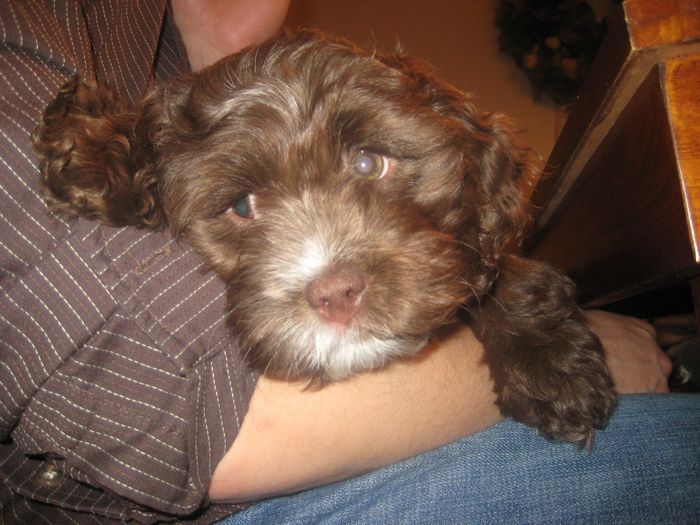 Zelda is an expert computer programmer. It's something we looked for in a breeder, extensive IT training for the puppies.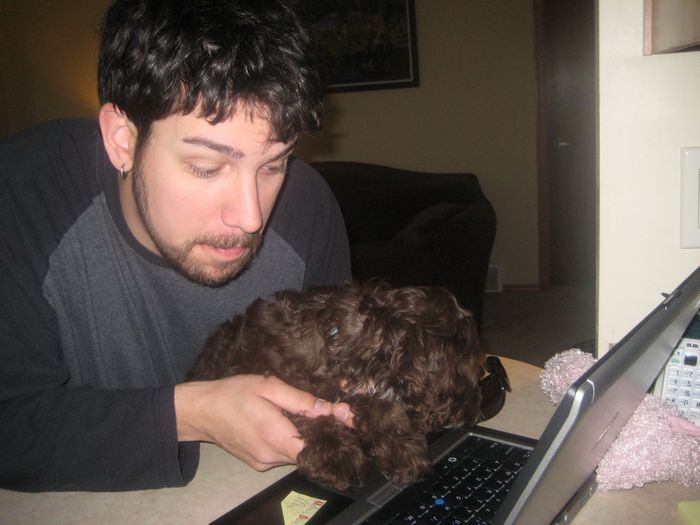 Puppies work hard too!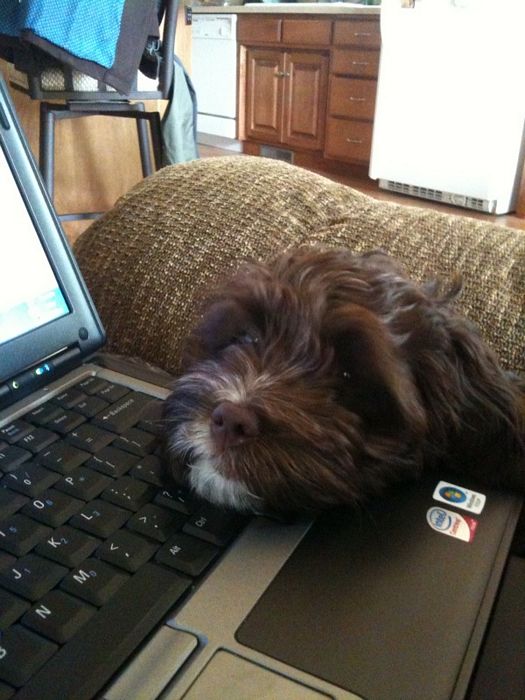 My dad would be proud, her new favorite chewing toy is a deer antler!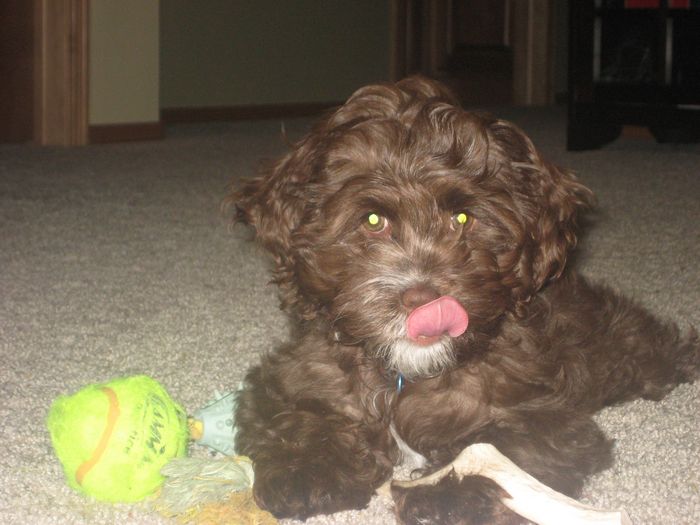 Mowin' down on that antler:

Zelda had these sweet horns on her head for a few days. No matter what we did, we couldn't get the hair to sit down. I think she's trying to make a fashion statement.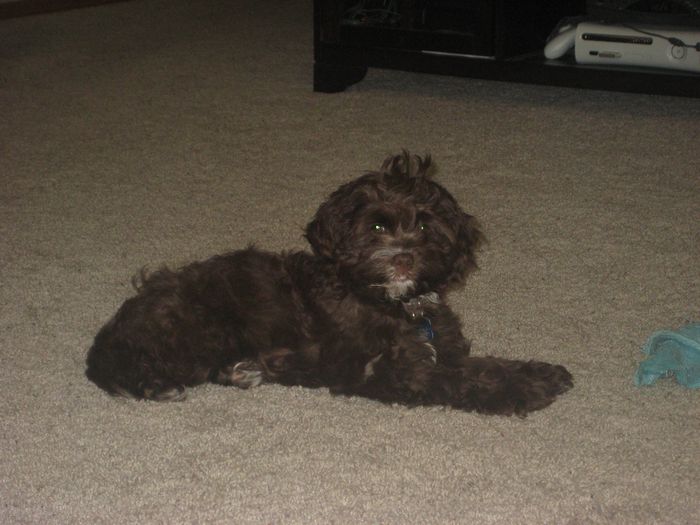 She's getting so big so quick, it's crazy! That's all the pictures I got for you for now!